Some great thoughts from one of our readers
Reader 5magics has put together some fantastic analysis on the yen. One of the things we want to do at ForexFlow is give a better platform for views from other traders, so I've fished his comment out from Disqus and putting in a better window for you all.
Over to 5M;
Hey Ryan, K-man and other guys, I'm back after some days off.
That short could work as we could range into the NFP but JPY lookin very weak, see the break of 136 and now confirmed on EURJPY and stocks going gung-oh. I'm selling JPY.
Since we're talking of JPY and I said I would have posted something on my year end view of JPY, here we go, for those interested.
Fundamentals:
– It seems that it will take time before the BoJ tapering story kicks in, Kuroda being very careful to not anticipate anything. And I even have some doubts on the tapering happening. Comparing to the ECB, we started seeing some rumors on changing guidance and tapering the QE some moneths before the EUR trend started, but there was a clear dissent on the ECB towards a more hawkish stance. Where's the dissent in the BoJ board? It seems a feast of doves at the moment.
– Global growth should continue, with commodities picking up steam lately. We could be closing into cycle end, but there is still room to go for what concerns economic global growth.
– Fed plans to hike. Hey Jerome, are you there? Need to wait and hear what the J has in mind about the hiking path. Gradual hiking looks the way they'll go.
– A wild card is US and EURO yields. If they break the next important resistance (say 2.6% US 10y and 0.5% GER 10y) that will surely weight on JPY.
All in all, such things should weigh on the Yen.
Technically, most important thing to me, my feel is that there is still price pressure to weaken the JPY. It seems that some medium/long term patterns have enough "magnetic" force to be completed. I post some weekly/monthly charts as replies of this post cause I can't put them into the right place in the text.
In conclusion, I think it will take time to start seeing some meaningful JPY strength and JPY could remain weak/ranging throughout most 2018 (of course barring whatever shock on the geopolitical side etc.). What I will look for:
1. A meaningful change in communication from Kuroda. Or whoever the next BoJ boss will be.
2. Signs that US/EUR/JAP inflation will simply not pick up and remain well below 2%. If oil tops here with this overshoot of the 38.2% ret of the big move down from 100s it could put further weight on this point in H2 2018.
3. US yield curve inversion and signs of slowing US growth. And consequent signs of a top in the never ending US stocks bull market that realizes central banks will tighten even if inflation is not there. I think some aspects of the US tax reform will make the next recession heavier.
Perhaps those points will come together and show a synergic behaviour. If and when they appear clearly and the market starts buying into them, I will look for a clear break of USDJPY 100.
EURJPY
This pair is key, if one wants big/medium JPY moves EURJPY needs to lead. Looks extremely bullish and 145 could come.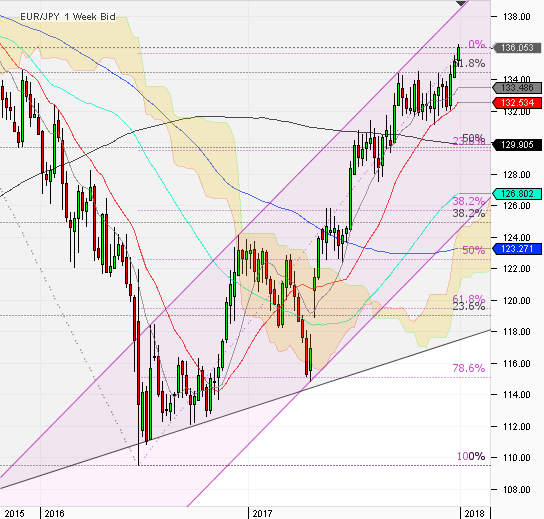 GBPJPY
Dragged around too much by all Brexit things to me to show clear signals but if 153.5 goes we could be on track to 160 or so.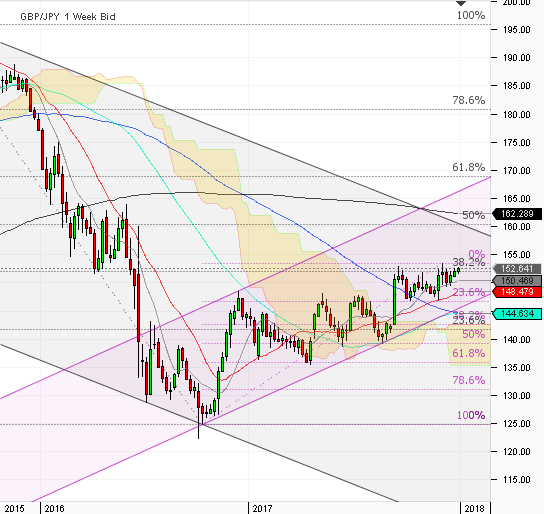 USDJPY
Stuck big time in the 2017 range and not providing clear info at the moment imho. The black downward channel looks key along with the pesky cloud.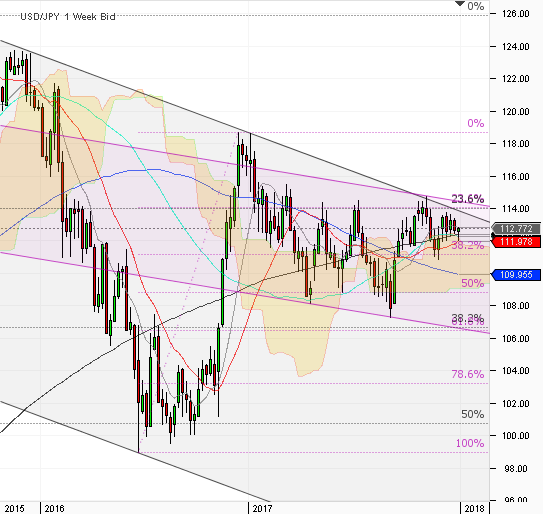 JPYCOM currencies are the most worrying charts for JPY bulls, it seems to me that some major resistance are at risk, see e.g. AUDJPY (90+ coming?) and CADJPY (95 coming?).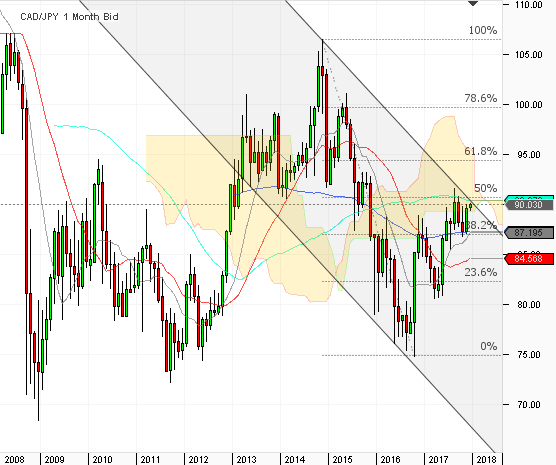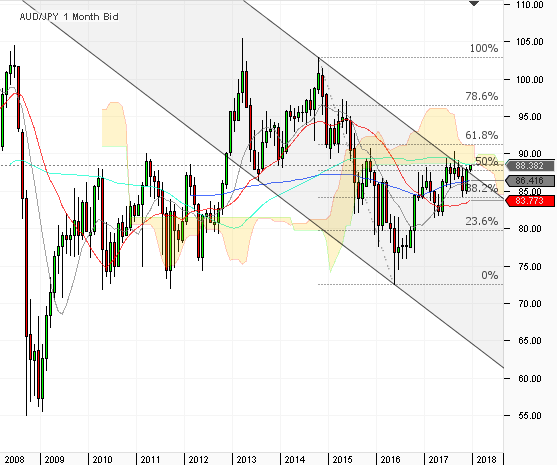 Psychedelic chartist extraordinaire. Have your shades ready.
Philosophy: "Don't be a Dick for a tick"
Read how Ryan got into trading
here
Latest posts by Ryan Littlestone (see all)